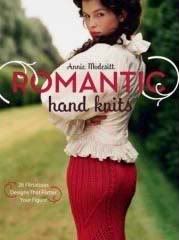 On August 7th the latest penning by Annie Modesitt will be released to the crafty public. The book is called Romantic Hand knits: 26 Flirtatious Designs That Flatter Your Figure (Potter Craft, $27.50). I have seen some of the preview pics and this is going to be a stunner. Check them out below. (Please do not copy the photos)
*All photos appear courtesy of Annie Modesitt with her expressed permission.
Curvy Girls will love this book. It has lots of waist cinching designs with leeway to accommodate the fuller bust. Many of the silhouettes look as if they were made for the über curvy without being unflattering or less than ladylike. If you don't believe me, take a second look at that skirt on the cover. The model looks like she is not lacking in the caboose area and as such the skirt looks really good on her. The stylish profiles are ultra-feminine with a little Elizabethan redux thrown in. Modesitt has also included some flirty accessories as well. Including some of her head turning hats.
I haven't had the opportunity to view this book yet so I can't tell you about the sizing or the appropriateness of the designs based on an individual knitter's skill level. Hopefully these things will not be an issue nor will finding the suggested yarn or yarn replacement. I can say that from the many pics I have seen the designs look timeless, sensuously soft, and fun knits.
About The Author
Annie Modesitt has written numerous books and been a contributing designer in many well known publications including
Vogue Knitting Magazine
, McCalls, and

I
nterweave Knits Magazine
. Annie is also the creator of
Flip Knit
, a creative flip book that teaches individual knitting techniques. A self taught knitter since 1983, she knits in the combination method. Annie lives in St. Paul, MN with her husband and kids.
~~~~~~~~~~~~~~~~~~~~~~~~~~~
The book doesn't hit shelves until later this summer, but if you would like to pre-order yours Amazon is offering a 34% discount off of the list price on all presale orders. If you are interested please feel free to hit the link at the bottom of this post or in the side bar.
Kamika