Spent my final day in London.  Had a great time riding the boat on the River Thames.  Took in the last of my sites, including the London Bridge and Harrod's.  Went out for a really late Italian Dinner and got ready to leave for Paris the next morning.
Got up at 5 am to make a 6:45 am
Eurostar
train to Paris.  The Eurostar is a great way to travel between London and many of other European cities because it's fast, quiet, and comfortable.  It takes you right under the English Channel, which at its widest point is 350 miles, and in to Paris in less than 2 1/2 hours.  Through the train windows, I got to see the English and Parisian country sides.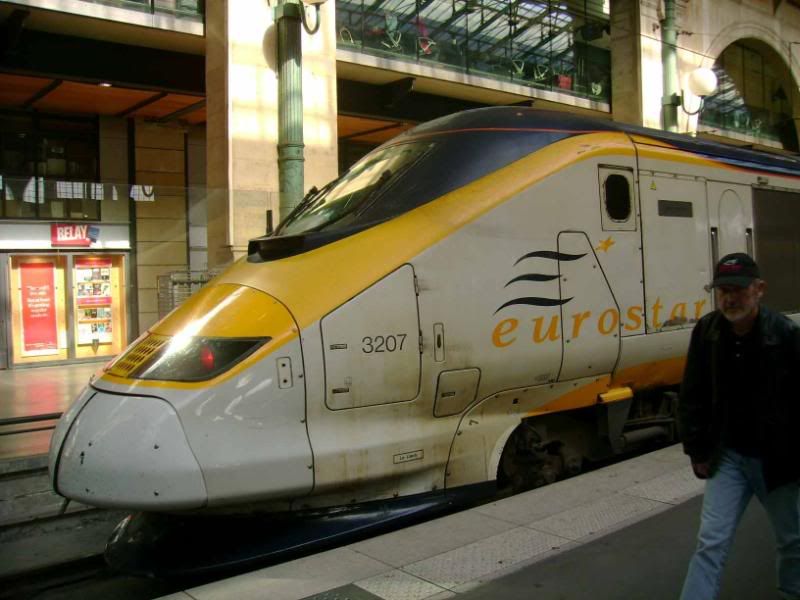 After my train ride I got in the Taxi que and was whisked off to my hotel.  Yes, whisked!  The cab driver drove so fast through all the tight little streets I had to hold on to my wig! LOL

He dropped me at a small hotel on the Rue de Gros Caillou called
Hotel Eiffel Rive Gauche
.  I had gotten a good deal with my train ride so I took it.  It's a 2 star hotel that is clean, well situated, and extremely french.  It bordered on bordello, but since I was only staying for one night and because it was clean, I didn't care much.  I immediately dropped my luggage and went to see the sites.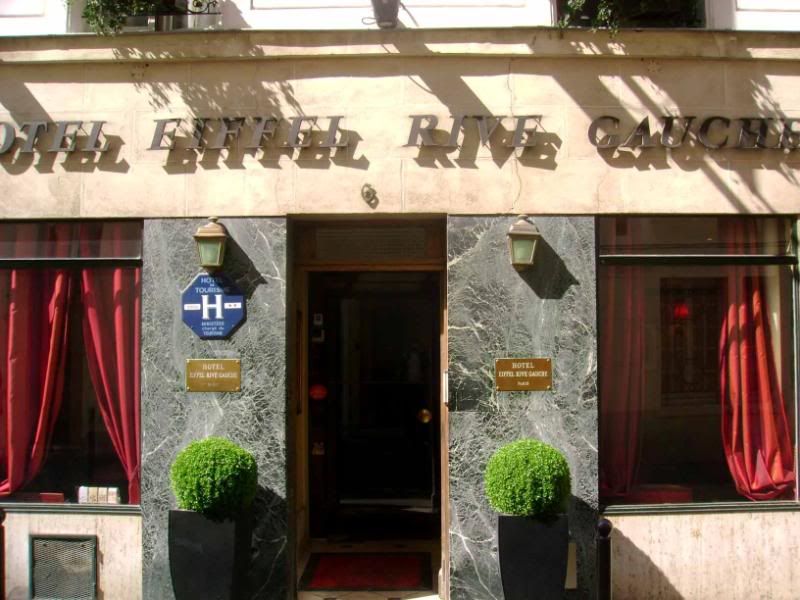 ... you can check out the rest of my tour through Paris in my
PARIS ONLINE ALBUM
.  I really want to tell you all about the vibe.
___________________________________________________________________
London and Paris are day and night.  Both are large cosmopolitan cities but, in my opinion, lie at separate ends of the spectrum.  At first glance its easy to see how the US and the UK are related.  London has a very bustling population like New York.  I would even say a larger population than New York.  On the streets you see every shade of human being imaginable.  It seemed as if just about every person I met in London was mixed.  Londons not afraid to broadcast it either.  

On more commercials than I could count there were mixed couples.  Black and white being the most prominent.  For the first time I saw something I had always wondered about when watching American TV.  Where are the mixed couples that show Black Women coupled up with White Men?  London showed them both.  It was refreshing but strange at the same time as I started to wonder where the same race couples were?
The people in London were generally nice and helpful.  Maybe slightly apprehensive because I embodied a little more sun in my skin than they are used to in their overcast land that promotes perpetual paleness (especially in the minorities) - but still pleasant.  
Paris on the other hand... Paris is a beautiful city.  It has lots of tree-lined streets and beautiful monuments wherever you look.  The architecture is breathtaking. The food is phenomenal and the fashion.  True, the fashion is enviable but the people are beyond smug.  Unbeknownst to me before my trip is the subversive racism of the French. People and the media tend to romanticize Paris in such a way that you think that Paris is very open and egalitarian.  You think because
Josephine Baker
was able to escape there to shake her tatas and swing bananas or because
Langston Hughes
found his thrill in de Maupassant that Paris is a black person's paradise. WRONG!
Paris is a segregated society that still openly criticizes its minorities (check the links below) while denying that it has a race problem.  Quite honestly as a person of color, if you are not rich or a well known celebrity the French would rather you not visit.  Don't get me wrong, it wasn't overt but I did get the since that if I had been 2-3 shades darker and a little less stylish, I would have been openly ignored.  While walking through the
Jardin des Tuileries
I stopped at a concession stand to get a waffle.  Prior to my approach all I heard were sharp Mercis and Bonjours.  When I got to the counter the two women just looked at me as if to say, "Why are you here?  You must know what you want if you are bold enough to approach the counter without bowing your eyes."  I just held her gaze and said, "HELLO."  They both stepped back away from the counter, the one who was serving me bowed her head and took my order.  It was obvious then that I wasn't a french black and that their attempts at intimidation were not going to work.  I watched her like a hawk to make sure she made my food right and then went on my way through the garden.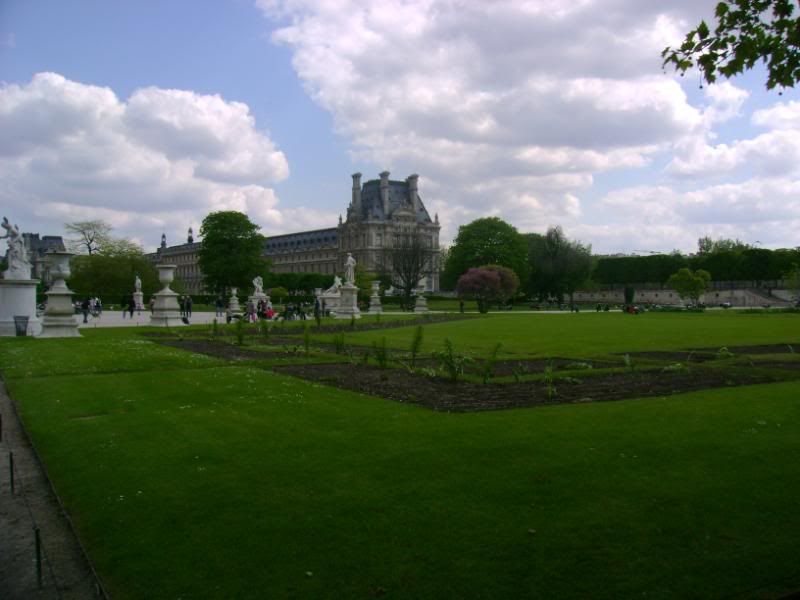 I swear to you that I was probably the only black person in the gardens.
The Louvre Museum
sits at the end of the Tuileries.  This museum is massive and cannot be seen in its entirety in under 4 days.  I just wanted a taste of it.  At the ticket counter, the attendant was sweet and helpful.  It wasn't until I had left her to go to the first exhibit,
Les Portes Du Ciel
, that I realized I needed another ticket to get in.  I went to the first ticket counter closest to the exhibit, thinking that I could just pay the extra 5 euros and get my ticket exchanged.  The attendant scolded me as if I should have known better and then told me to go back to the other ticket counter to have it fixed.  It's bad enough that because I don't speak the language (although I can read it well enough) I'm at a disadvantage and rely heavily on smiling to get my message across, to have to be overly nice to mean people so that you don't appear threatening is even worse.  When she told me to go back to the other ticket counter, she realized she didn't really know what I needed and asked me again.  Then when she got it (a simple void of my ticket and reprint of a new one) she had to call her supervisor to override her system and issue me the ticket.  Her supervisor was very sweet and helpful.  Uggh!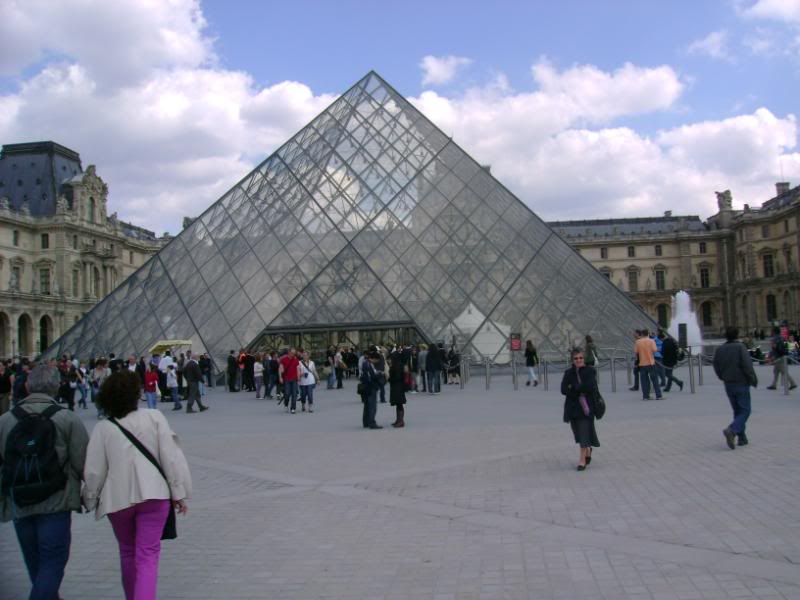 Don't get me wrong.  Everyone is Paris is not bad.  I would even venture to say that most in Paris are not bad.  Those that were helpful, truly were just that and those that weren't I cut short and went on my way.  I've learned very quickly in my life how not to fight pride with pride. 
With that said (and because this is getting long), I would definitely go back to Paris.  The shopping is amazing and the scenery is beautiful.  Parisian women know how to keep their fashion simple, which makes them look so elegant.  Paris in the spring is truly wonderful. Yes, I would go back but I think I would prefer to go with a few people I enjoy being around and after I read the
Wretched of the Earth
.